FileZilla Client is a fast and reliable cross-platform FTP, FTPS and SFTP client with lots of useful features and an intuitive interface.
Compatible with Windows, Linux and Mac OS X.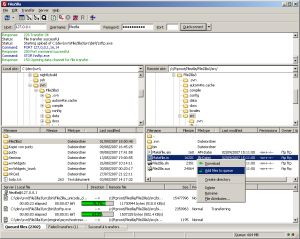 We recommend downloading Filezilla FTP it's FREE



HostKan.com Affiliate Program
By participating in HostKan.com affiliate program you can earn 30% of all the payments made by the customers that come to us through the use of your referral link.

Increase Your Web Site Income by Promoting HostKan.com: Receive 30% commission per referral for every new hosting customer you refer.

All affiliates get paid every month. The minimum sum for payment is $20.00 US Dollars. Sing Up Now !


Start your Domain search here !


LEGAL DISCLAIMER


Information Not Warranted or Guaranteed:
The official Hostkan.com website and all pages linked to it or from it, are PROVIDED ON AN "AS IS, AS AVAILABLE" BASIS.

Hostkan.com

MAKES NO WARRANTIES, EXPRESSED OR IMPLIED, INCLUDING, WITHOUT LIMITATION, THOSE OF MERCHANTABILITY AND FITNESS FOR A PARTICULAR PURPOSE, WITH RESPECT TO ANY INFORMATION OR USE OF INFORMATION CONTAINED IN THE WEBSITE, OR LINKED FROM IT OR TO IT.

Hostkan.com does not warrant or guarantee the accuracy, adequacy, quality, currentness, completeness, or suitability of any information for any purpose; that any information will be free of infection from viruses, worms, Trojan horses or other destructive contamination; that the information presented will not be objectionable to some individuals or that this service will remain uninterrupted.

No Liability:
Hostkan.com, its agents or employees shall not be held liable to anyone for any errors, omissions or inaccuracies under any circumstances. The entire risk for utilizing the information contained on this site or linked to this site rests solely with the users of this site.






We Accept:

We Accept:


Home | Order Now | Web Hosting | Affiliates | Support | Tutorials
About Us | Video | FAQ | Domain | Terms Of Service | Links | News
Free Templates | Website Design | Disclaimer | Contact Us



HostKan.com
Tel (514) 744-3855 &nbsp E-Mail admin@hostkan.com
Copyright © 2011 HostKan.com. All rights reserved. Please read our Terms Of Service
Use of this website and information available therein is subject to the Legal Notice and Disclaimer
Powered by HostKan.com
cPanel



Try Demo
Username x3demob
Password x3demob

Linux Hosting